If you think about it… Basketball is "optional", especially in middle school and high school. As far as I can tell, no one is 'required' to play basketball. Just like no one is 'required' to go to college or earn an above average living from a career they enjoy. Almost every great experience or achievement is 'optional'.
We each get to choose what optional things we want in our life and what optional activities we are willing to put in to our life to get exceptional rewards! As I heard on the Pure Sweat podcast (paraphrasing a bit), "Winning is earned by what you do in the unseen hours."
Great = Optional
As Jim Collins pointed out in his book, Good to Great, "Good is the enemy of Great." The reason we have so few things that are great is because what we have is generally "good". Most people are ready to settle for "good enough" and never discover that they could have achieved something great.
It is very simple. If you want to be great at anything, you have to do things that average people don't do. You have to do the 'optional things'. In basketball, if you want to be an all-state player, you need to work on your shot and your athletic ability (assuming those are areas that will make you successful). In school, the optional things could include an extra study session every night or finding a new way to study that is more effective.
Optional is not easy… or hard
Doing extra things, optional things, can be hard. It might involve working harder, getting up earlier than your competition and putting in longer hours. That might be hard… or not. You might actually find ways to enjoy the optional activities. Many athletes are proud of the hours they put in and it gives them a sense of confidence that they would not have otherwise.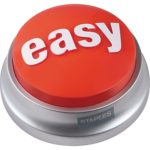 On the other hand, optional things could actually BE easy. Finding a new way of doing something can almost instantly take your performance to a new level.  Reading on your topic of interest, while perhaps mentally taxing, can be a physically relaxing activity that can give you an advantage over the competition.
Referring back to Jim Collin's book, Good to Great, one of the counter-intuitive findings that he came up with, and documented with a number of stories in his book, is that it isn't really harder to go for great than it is to settle for "good". Are there some different activities? Sure. Do great teams do things different from good teams? Sure. But does it have to be harder? Definitely not.
Quick Mental Training Tip…

Whether something is easy or hard, good or bad… is your choice. You get to define the meaning of everything in your life. A person's definition of 'reality' can be very subjective so why not choose the meaning that gives you the best results. If you want it to be easy, make it easy. If you want to challenge yourself with something hard, make it hard. You get to choose.
Bottom Line…
The optional effort is what makes you stand out. As I've said in another article, Hustle is a way to stand out… and Hustle is clearly 'optional'. What other activities do you need to do to get what you want? By doing the 'optional', you are setting yourself from the pack, from the 'average' results and shooting for something better. How far are you willing to go? Your limits are just an illusion set up by other people. You can do more than you even imagine!